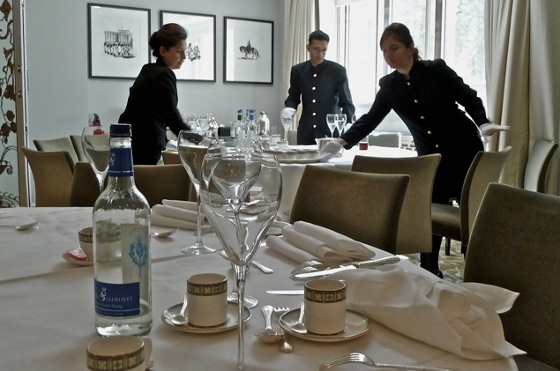 Article by Nishit Morsawala
Jobs taken up by migrants in London are no threat to British applicants, as we have found.
Martin Barnett cannot imagine how London would function if it weren't for migrants filling up short-staffed sectors.
"It would be extremely difficult for me to fill vacant positions where I work if it weren't for migrant applicants."
Barnett, 33, is store manager at the Portobello Road branch of Gail's Bakery, where the staff is made up of nationalities as diverse as Poland to Brazil.
"Honestly, when we put out advertisements for empty positions we hardly get any British applicants, almost everybody who applies is a migrant."
According to Barnett, the reason for the low levels of British applicants in service sector jobs is that the general perception of them is not very favourable. Most British people would tend to view the jobs as "too low-paying" and "not worth their time" deeming it as a career not worthy of respect.
This reality is in stark contrast to the attitude of the British public and coalition government, who perceive increased immigration as a direct cause to higher unemployment and lowered wages for the local population.
Recent tabloid reports have alleged that migrants have claimed 90 per cent of 'new jobs', with only 10 per cent granted to British people.
However, the term 'new jobs' has been debunked by
critics
of the statistic as being "too vague". Fears are based on the perception that there are only a fixed number of jobs available at any one time, though most economic experts would agree that the number of jobs available is not static, and is subject to a host of economic conditions.
Conversely, according to the
Labour Force Survey
around 85 per cent of 'new hires' last year went to people who were born here, while 15 per cent went to those born abroad.
Barnett's view that migrants work in sectors that would otherwise be incredibly short-staffed if left to British workers is reflected in statistics. Migrants fill 69 per cent of jobs in London's cleaning and catering sectors, while 56 per cent of care assistants are migrant workers. Additionally, one in four doctors and two in four nurses were born abroad.
Local population are especially fearful of losing out to migrants who supposedly snap up jobs while willing to work for lower wages, thus affecting the amount British workers could earn.
David Frost, on his final day as director general of the British Chambers of Commerce, however denied that overseas employees got jobs because they were prepared to work for low wages, but because they had a stronger work ethic.
"I work with many migrants and natives. I have a very high regard for migrant workers, as they really seem to understand the value of work," said Roland Sylvester who works at the Prince Albert, a pub in Battersea.
"You know you can depend on a migrant worker to have a good work ethic - they get the job done, sometimes better than native workers. Culturally, they bring their own distinct ways of life to work - I work with men from Poland, Hungary, Egypt, Australia, Italy, Argentina…I think this enriches the work experience, from my own point of view, as you can learn so much more from peoples that have travelled from far-flung places."
The government, however, aims to cut immigration to "tens of thousands" by 2015, although economists have predicted that decreasing the UK's recruitment of skilled workers could reduce UK output by as much as £2 - £4 billion by 2015.
Photo by Louise Sweet