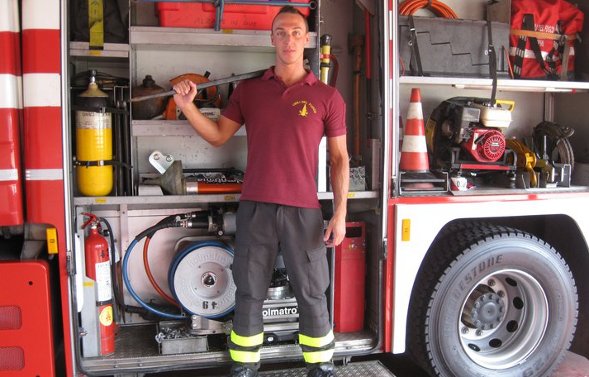 For Riccardo Moretti, a typical day at work might involve many things – from firefighting and motocross racing to selling cheese and salami at a farmer's market. Add a little bit of studying economics and a rigorous swimming regime, and you begin to understand what drives this 27-year-old Italian migrant.
"I always follow my passion, but right now I need to go forward with my life, and I'll do as much as I can for that to happen," says Riccardo.
Riccardo has been coming to London for the past two years to work in the catering sector, though only for six months at a time. While he's usually in London from January to June, he spends the remaining six months back home in Milan, Italy, where he works as a firefighter.
"My contract only allows me to work for a six month stretch every year, but I plan on applying for national recruitment, where I'll be able to work all over Italy throughout the year."
When he's not firefighting or, at least until a few years ago, motocross racing, the Surbiton resident spends his time in London working at market stalls and cafes. This year, he worked two jobs at Costa Coffee and Paul's Bakery, and also working at an Italian farmer's market stall on the weekends.
"I like to keep myself busy. I always need to do something, and on the occasion I'm not working I like to go out with my friends – London is a fun place to be that way."
Motocross racing, a passion he inherited from his father, was something he had to leave behind in the economic crisis that affected the sport in 2007-2008. When most of his sponsors backed out, he left the sport where he was a minor celebrity in Italy to devote his energies to being a firefighter, which he had already applied for before he quit racing..
"I did try to apply for a firefighting position here in London – I think I was the only migrant who did – but for some reason my form didn't even pass the initial acceptance stage," he says ruefully.
For Riccardo, that hardly means he's going to stop following his dreams. Some of his friends are studying at one of London's best business schools, and he spends as much time as he can studying finance and economics by himself.
"I buy their books when they're finished with them and study as much as I can by myself – I can't apply for a course myself as it's much too expensive," says Riccardo, who's previous academic expertise is that of a surveyor.
Firefighting, racing, vending, studying, the list goes on for a man who still thinks he has a long way to go until he achieves success- and he's more than ready for the journey.
He does, however have a piece of advice for fellow Italians who want to cross the channel for a better life: "If you like to make an effort, keep yourself busy, and be recognised for your work, then you should definitely come here. London is a city where you can realise your dreams, if you work hard enough"
Photo source: Riccardo Moretti