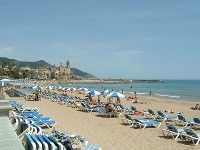 photo by G.M Kowalewska
German citizens enjoying retirement in Alicante's coast (Spain) are making the most of their free time teaching Spanish unemployed.
About half a dozen of retired German citizens are teaching their language to Spanish unemployed in Alicante. They give the lessons for free willing to improve the skills of those seeking employment in this coastal region. It is a great opportunity as a good number of Alicante's population come from other European countries, especially the UK and Germany. The city of Javea as an example, has a population of 8.000. However, more than 55% of its citizens have a foreign origin.
It is a great project as unemployed with German language skills will improve their opportunities to find a job in the tourism sector and German citizens, will have the chance to share their culture and have a stronger interaction with the local community.
To read the original article, please go to: