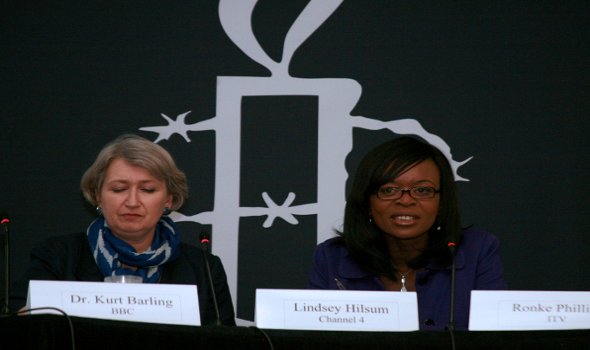 Migrant Voice held its second annual conference From MONOlogue to DIalogue; Strengthening and hearing migrants' voices in the debate on migration, on May 11-12th at Amnesty International Human Rights Action Centre. The conference was an opportunity to examine public attitudes and media representation of migrants and further develop our strategies for migrants' engagement in the public conversation on migration.
The conference brought together members of our networks in the three cities (London, Birmingham and Glasgow) with other migrants, the media and academics to exchange their learning, build solidarity and develop alternative and positive media messages on migration.
The two day event saw engaging presentations from experts in the field of messaging, public attitude and migration who shed the light on the latest research and activities to engage the public in dialogue, including Professor Heaven Crawley from Swansea University, Dr Scott Blinder from the Migration Observatory, Dr Aine O'Brien from FOMACS, Don Flynn from Migrants Rights Network, and others.
A media panel of journalists including Ronke Phillips from ITV, Dr Kurt Barling from the BBC, David Crouch from the Financial Times and NUJ, and chaired by Lindsey Hilsum from Channel 4, provided an insight into the British media perspective on the coverage of migration, and highlighted opportunities for migrants to engage with and influence the media.
To help us identify a fresh way to deal with the challenges facing migrants in the current climate, we had presentations from UNHCR's Roland Schilling, giving us the global perspective; the UK perspective was provided by Don Flynn from the Migrants Rigths Network, and the Scottish perspective presented by Jason Bergen, Migrant Voice trustee in Glasgow.
Participants engaged in a number of workshops presenting innovative and inspirational projects and initiatives from across the UK and from Ireland with presentations from: 'Tamasha', 'IceandFire Theatre', 'FOMACS', '38 degrees', 'Virtual Migrants' and Migrant Voice's Talking Pictures project.
Day one concluded with the screening of our film 'Yurik' and a reception.
Day two of the conference engaged members of the Migrant Voices for Change Network in hands-on media training: on 'How to pitch your story and conduct interviews' with Daniel Neson, journalist and editor; 'How to shoot videos on your mobile phone and upload them to youtube' with Nick Micinski, MRCF; and 'Electronic Conversation on Migration' with Becky Gardiner and Lanre Bakare from the Guardian. The conference concluded with a session of facilitated small group discussions on the strengthening the network, its messages and activities.
A full report from the conference will be available upon request by the end of May.
Photo: By Karen Gordon Photography (Lindsey Hilsum, Channel 4 on the left and Ronke Phillips, ITV on the right)