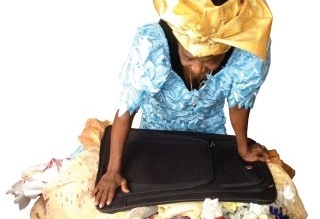 This article is the first in a new series of regular features on the arts and events related to migration happening in London.
By Daniel Nelson
The Office for national Statistics has suggested that about 154,000 Nigerian-born people live in Britain; thousands of other British Nigerians were born here. Since British Nigerians are one of the country's highest-educated groups, perhaps it is not so surprising that this month sees three plays in London deal with what happens when descendants of migrants visit the country of origin of their parents or grandparents.
Bola Agbaje's play, Belong, at the Royal Court theatre, asks the question of a British-Nigerian couple, and the answer is funny and devastatingly traumatic.
Agbaje was educated in Peckham, south London. In an interview with Afridiziak Theatre News she said she felt she belonged in London - but " no, I don't like calling myself British; it's just a personal thing. A person whose parents are from Africa are two sides of a coin, British by convenience, like they can say they're British when it suits them and say they're Nigerian when it suits them.
"I will proudly say I'm a Londoner; if there was a London flag I would fly that high and proud! But when I leave London and go to Liverpool or Sheffield I don't feel British, I'm very much aware that I'm not 'British British'. I'd say I'm a Londoner before anything else, and then I'd say I'm Nigerian, and then I might say I'm British depending on what day it is and where it is.
"Living in London I know a lot of second or third generation immigrants who find it difficult to claim that British identity. I don't think that's just a black thing, I know a lot of second generation Kosovans or Hungarians who feel the same way."
In Belong, she plays with racial and national stereotypes and the position of black people in a predominantly white society as well as in African societies of which they are not a part. ("Keep fooling yourself, just know that everyone you meet, everywhere you go, people will ask where you are from. Even if they won't know straight away because of your accent, they will still ask where your parents are from, and if you tell them British, next question will always be where are your grandparents from, and will only be satisfied till you say Nigeria…")
The Tiata Fahodzi theatre company worked with the Royal Court on this production. The company's aim is "exploring the experiences of Africans in Britain". Or, as Rita might suggest in Belong, the experiences of Brits in Africa.
Pandora's Box is by Ade Solanke, who grew up in Ladbroke Grove, west London.
"The story is about British born Africans taking their children back to Africa," she explains. "I didn't do it with my son, but one of my close friends took her son to Nigeria. He was going off the rails, but after two years in Nigeria, he came back to England transformed. What do they get in Africa and the Caribbean that they don't get here?"
Explaining the title of her play to Afridiziak, she said, "Our parents [African\Caribbean] came to England thinking they were not staying for long. My mum has all these trunks since she got here where she's been storing things for when she does go home. Over the years she would open the boxes and give things to people who were going back home. Pandora's Box reminds me of the experience of storing things in a box and sometimes what comes out of the box might not be expected.
"Originally, the myth of opening Pandora's box brought problems to the world. Europeans going to Africa in the first place was almost like the opening of a Pandora's box."
Later this month comes Egusi Soup (named after a popular West African, especially southern Nigerian, dish), by Janice Okoh, at the Soho Theatre. It's about a British-Nigerian family heading for Lagos to attend a memorial service who "soon realise they will need to get rid of some excess baggage first!"
+ Belong is at the Jerwood Theatre Upstairs, Royal Court, Sloane Square, SW1, until 26 May. Tickets: £20; Mondays all seats £10. Info: 7565 5000. It will transfer to Theatre Local, The Bussey Building, 133 Rye Lane, SE15, 31 May–23 June. Tickets; £10 in advance, £8 concessions); at least 30 Pay What You Like tickets available on the door for each performance.
+ Pandora's Box is at the Arcola Theatre, 24 Ashwin Street, E8, on 9-26 May. Tickets: £14 (£10 concessions); matinees £10/£7; limited Pay What You Can Tuesdays from 6pm. Info: 7503 1646
+ Egusi Soup is at the Soho Theatre, 21 Dean Street, W1, from 23 May to 9 June. Tickets: £10-£15. Info: 7478 0100
Photo from Egusi Soup