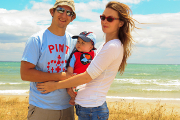 Immigrant, migrant, traveller, expatriate: Nishit Morsawala talks to people from UK who seek fun and fortune overseas

In Britain, controversy about immigration has raged for years. But emigration gets less attention.
Australia is the most popular country for Brits looking to live overseas, with 21 per cent in a Post Office survey making it their No.1 choice, followed by the
US, Canada and Spain.
The survey found that a quarter of people— and a third of students — have considered a move overseas, and that a better quality of life was the main biggest incentive. The number of people who left the UK in 2010 was 124,000.
About two million Britons have left the UK since 1998, and around a million have returned.
Around 60% of those leaving are of working age, in the 25-to-44 age group who are going for a job or are looking for one.
Jessica Crowe has been living in Mexico City for more than six months: "Leaving your country of birth gives you a better idea of what you consider home to be."
"I always wanted to see the world," says 31-year-old Martin Barnett. "I was still young and single when I went to New Zealand for a snowboarding trip so I stayed..."
Barnett spent seven years abroad – three each in New Zealand and Australia and one more in Southeast Asia – and he loved every bit of the migrant experience.
"Of course there are problems, like migrants have in every other country," he says. "My girlfriend is Japanese and once a group of people passed racist remarks at her while we were walking down the street. Some Aussies would joke about how Brits were taking their jobs when I worked as a bartender: it was all very light-hearted but you never know what the underlying sentiment is."
He and his girlfriend now are planning to move to Japan.
"People migrate for quality of life reasons... and that's fair," he says.
Technically, the United Nations Convention on the Protection of the Rights of All Migrant Workers and Members of their Families defines a migrant worker as "a person who is engaged or has been engaged in a remunerated activity in a State of which he or she is not a national."
A particularly sore point in the UK immigration debate is language. A recent court ruling has upheld the UK immigration rule that spouses must pass a basic English language test if they are to indefinitely join their partners here. Supporters say the move will improve social integration: critics say it may obstruct a person's right to a family life.
What about Britons living abroad?Susan Woods worked for three years in
South Africa and seven in the US. Now she owns a property in the Spanish town of Alcossebre, where she spends a few months every year with her husband.
"One of the things I find most extraordinary about the English in Spain is how many of them haven't made more than a rudimentary attempt to learn Spanish. Most seem to really just want to pretend they're still in England - but with better weather," she says.
And how easy is it to integrate in a culture and society far removed from your own?
"I don't have any particular plans regarding becoming part of the local culture," says Dr Seth Lazar, who lives with his family in Australia after living in Zimbabwe,Switzerland, the US and Israel. "I intend to hold onto my accent at all costs, for example."
Lazar says he's been a traveller "but now I see myself as an immigrant."
He doesn't think the idea of global citizenship makes much sense, except metaphorically: "Citizenship denotes membership in a state, or at least a political community, and in the absence of a global state, nation-states are all we have. And there's no doubt when moving to work in another nation-state that you know you're an immigrant, and in that respect different from the locals."

Sara Davidson, 50
'It's a class issue.'
Having lived in more than six countries and on three continents she currently lives in the UK. "I spent six months in Iceland as a student, and another year in Norway,where I also worked. Students are seen as migrants, which is a shame as they are more expatriates.
I worked 18 months in Australia, as an aid worker in Bangladesh, India and Sri Lanka. I went to India, then to Australia, then to Burma and Nepal.
I tried to integrate. In Australia I shared a house with Australians and other travellers. In Sydney's poorer areas I became friends with immigrants and locals.
I was a migrant worker in Australia.Essentially, an expatriate is a positive term, it means you have more responsibilities and that somehow there's a chance you'll willingly go home.
Migrants have to take what they get, can't go back as easily. Migrant is now a criminalised term – it could mean expatriate,refugee, asylum-seeker.
In India, there is a great consciousness of its colonial past and certain prejudices from the middle-class.
It's easy to forget quickly that we too used to go abroad and we still applaud people for going abroad ... migrants, however, are treated suspiciously. It's a class issue."

DR Lina Lewis, 48
'I miss the greenery'
She and her husband and family have lived in Bahrain for almost a decade.
"We have been working abroad for more than 10 years.
Unfortunately our holidays are spent at home in UK to make up for working abroad. We would love to travel with family but never had the opportunity.
I miss the greenery, discipline, the variety of places to visit, museums, theatres and our homes. We are part of the local culture but we are always foreigners and never actually part of it. Sadly with more time spent abroad, you feel you don't belong here or there. That's the price you have to pay for a better living and job satisfaction.
You contribute to the local culture but once your job is done you fear you are not needed and thus you are not welcomed.You leave your home to provide your family with a better future, financial security and job satisfaction.You consider it home but deep inside home is where your family is and sometimes it gets lonely, although you are surrounded by friends and colleagues.
Your friends become your family you can rely on when needed. However, as Bahrain is 'home' to many expats, friends come and go. It's ok when you are young and busy building your future, but then you look for security, family and where you grew up to think of home."

Emma Sylvester, 28:
'I can only see the move as a positive'

An actress who at the time
of the interview
lived in London, she and
her partner are moving
to Australia in pursuit of
a better, less stressful
life.
"I've travelled to China, Thailand, India, Zimbabwe, the US, Europe (France, Italy, Greece, Turkey, Germany and Austria) but never lived abroad as such.
My partner and I are moving to Melbourne. We are sick and tired of the expense of London living, cold winters, overcrowded cities, the London riots...My
partner Joe is a chef and his working day can be up to 18 hours. In Australia he can work less hours with more leisure time.
We both love the sea, swimming and surfing we can all do at the start or the end of a working day in Melbourne. We also both want an adventure together,having both lived in Londonfor the last eight years.
Although I'll miss my friends and family back home, it's something I feel we both need to do. I feel claustrophobic in the city, hungry for a change.
But I will miss British pubs and heritage, London on a crisp winter morning, the patchwork of British countryside.
In Australia, I plan on taking part in fringe theatre in whatever capacity. I can only see the move as a positive. I think the more customs you can understand and by osmosis inform and better yourself as an individual the better. I would perceive myself to be a migrant, as I intend to work in Oz and
integrate with society over there."

Photo: Dr.Seth Lazar,with his wife Lu Barnham and son Amos at Rye Beach,Melbourne:once a traveller, now an immigrant