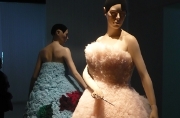 Anne Mullee gets tips for the top from a trio of migrants who have become leaders in their field

What is success? While money tops many people's list, for others it's just a part of the story, or doesn't feature at all. For these three migrants, the key to their achievements has been creativity, a love of food and the chance to help others.

Camila Batmanghelidgjh
Born in Teheran to an Iranian father and Belgian mother, British Business Woman of the Year Camila Batmanghelidjh was sent to boarding school in Britain at the age of 11.
Her wealthy family were supporters of the Shah and suffered in the wake of the 1979 revolution, when her mother vanished, her father was imprisoned and her sister committed suicide.
Though severely dyslexic, Batmanghelidjh gained an honours degree in drama from
the University of Warwick, then trained as a psychotherapist, when she began to witness the damaging effects of child poverty and decided to do something to help. The result is her charity, Kids Company, founded in 1996, which offers a range of services including drop-in centres and therapy for children living in poverty in London.
Though feted for her charity work, Batmanghelidjh is far from complacent, and is an avid lobbyist for increased funding for social services relating to children.
Following last year's riots she commented on the effects of poverty and how the authorities are failing such children: "Under- resourced social work departments are making unethical choices all the time, leaving children hungry, neglected or sleeping on the floor. A house littered with dog and human
faeces is now not classified as child abuse, nor do social services take responsibility for a 13-year-old boy being run by drug dealers and witnessing the torture of other young people: that's classed as a police matter."
On her own success, she believes that part of it is down to creating a peaceful, and attractive, environment, an approach evident from her colourful personal style.
"Find a place, then make it beautiful, and you colour a child's life," she suggests.
Anjali Pathak and the Pathak family
Regularly touted as Britain's new favourite dish, curry today is as ubiquitous as fish and chips. But that wasn't the case when Laxmishanker and Shanta Pathak migrated to the UK from Kenya in 1956.
Originally from the Gujarat region of India, the couple found themselves in the north London area of Kentish Town with just £5 to get them started, and no familiar Indian food to be found.
With entrepreneurial zeal, they began to track down spice suppliers and to make and sell their own recipes through their shop, with Shanta devising pickles and relishes in her own kitchen.
The business grew, dropped the 'h' to become Pataks, and its products can now be found in every supermarket in the land.
Laxmishanker and Shanta's son Kirit (currently appearing in Patak's TV adverts) and granddaughter Anjali are now the company's brand ambassadors, with Anjali spreading curry lore through cookery demonstrations on You Tube.
She is proud of her family's success and passionate about Indian food. "Being entrepreneurial is in my blood, I approach life with strong ambition and the drive to be successful," she told Indiatimes.
As a second-generation migrant she is positive about the opportunities her country can offer, but also believes that heritage can play an important part in finding success.
"The UK recognises talent and does not discriminate: this has given young Indian entrepreneurs a platform to show innovation and skills. But my Gujarati heritage is also very important to me. It is where a lot of my family traditions derive from.
"When I joined the business I wanted to show the trendier, healthier side of Indian cuisine. There are so many aspects to share and I believe the world is on the brink of the Indian food revolution."
Hussein Chalayan
British Designer of the Year for two consecutive years, Chalayan moved to the UK from Nicosia in Turkish Cyprus in 1978, when he was eight.
Renowned for his avant garde approach to fashion, his debut collection featured silk dresses that had been buried to allow them to decompose. He went on to make clothes from paper and wood and other unexpected materials.
Today, however, he is better known for dressing Lady Gaga and as creative director for sportswear label Puma.
A champion of collaboration and trying everything and anything, Chalayan believes that "you don't have to have your own label to succeed, you could have a part in an interesting group."
With a keen interest in all forms of art and design, he has represented Turkey at the Venice Biennale and worked with crystal specialists Swarovski to make glow-in-the-dark LED dresses.
His advice for success? "You have to expose yourself to other worlds to keep your mind more active."