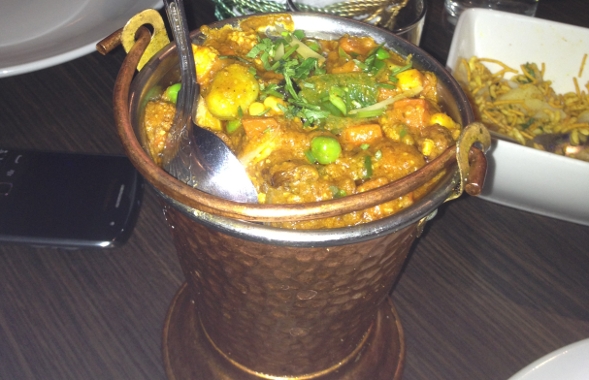 Ruchita Daswani samples Birmingham's latest food revolution - the birth of the Balti
Birmingham has long had a reputation for culinary innovation. Apart from being home to famous English food brands such as HP sauce, Typhoo Tea, Bourneville cocoa, Bird's custard and Cadbury chocolate, it isnow known as the nation's curry capital.
Authentic curries in Britain's second most populous city go back to the 1940s when Abdul Aziz opened The Darjeeling in Steelhouse Lane, selling curry and rice.
Another landmark came in 1977: Mohammed Ajaib produced a dish that he hoped would give him an edge over his rivals in Birmingham's highly competitive Indian restaurant market. The balti was born.
It was cooked and served in a steel wok or balti, Hindi for a bucket or pail.
It caught on rapidly. "Balti houses" mushroomed and today the south-eastern area of Birmingham that houses over 50 balti houses is known as the Balti Triangle.
The balti has since been adapted to Western tastes and needs. The meat is cooked off the bone; use is made of vegetable oil, herbs and a selection of spices that includes fenugreek, turmeric and cumin along with a garam masala mix and fresh coriander as garnish.
For quick service, the maximum preparation time is 10-15 minutes.
"The balti was born in Bham [Birmingham,or Brum]," says Mo Ahmed, manager of the award-winning Al Frash Balti restaurant in Ladypoole Road.
"It is the only place where baltis are served authentically. Food is prepared, cooked and served in the balti dish which retains the goodness and makes the dish a light, healthy alternative to the heavier curry," he adds.
"Trying an authentic balti in an authentic restaurant is a must on every visitor's list."
Recognised by the council as a unique area and promoted as a tourist destination, the Triangle draws over 20,000 visitors a week.
"People come to eat here from London, from Scotland, from all over - Iranians, Saudis, Japanese, Chinese, everyone comes to visit," says Hassan, co-owner of the Lahore Restaurant, Kebab & Sweet House.
"The Prime Minister of Pakistan had a meal of balti here recently. We also cater to all communities. We create special dishes for the festivals, not just for Eid, but also for Diwali and for Christmas," he says.
In the wake of balti restaurants came groceries and supermarkets selling balti ingredients.
Raja Brothers, a family-led business that started 30 years ago, is one of the biggest and best-known. Three years ago David Cameron worked at the store to "spend some proper time out of Westminster" – though it was only a three-hour stint.
The store specialises in Asian and Middle Eastern food, says Kamran Ishtiaq, the third generation to handle the business.
"It's mostly the ethnic community, but also the English, who came to eat in the Balti Triangle and now want to get the ingredients to make the same food," he explains.
The triangle now also boasts boutiques and jewellery stores with vividly colourful
displays.
"It caters for everyone," says Rifath Hussain of Generations, one of the
jewellery stores on Ladypool Road.
"Birmingham is a multicultural city, so many people, English people as well, come to buy things for weddings. There is something for everyone."
"The one thing you must do here is come to eat. Not just your main meal, but also desserts: there are restaurants that just specialise in desserts. People may have their dinner in one place, then go to another place for dessert and a third for shisha [hookah]," she explains. "This is a one-stop shopping area."