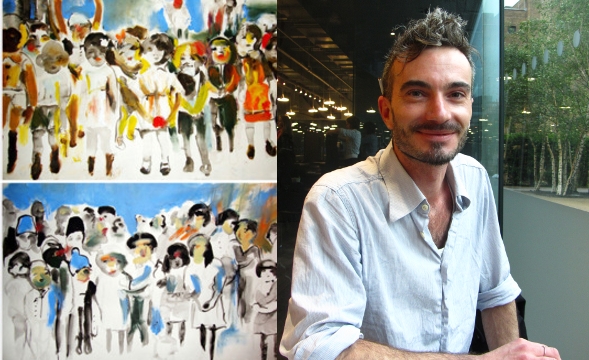 "I found myself as a migrant, a lucky one…" says the Italian visual artist, Federico Gallo who moved to London during the late 90's. Being a migrant from Europe may not represent as much of a difficulty in terms of travel, paperwork with visas or freedom of movement as for refugees and for migrants from outside the EU, but being a migrant in a city like London was definitely a wake up call for Federico: "I had to observe and learn, questioning my certainties, dealing with and breaking my dogmas and constantly comparing what I knew with the new [place] surrounding me".
From the beginning he was studying for his BA in Illustration at the London School of Communication. He decided to jump from Fashion, which he was doing in his native Italy, to Illustration "The connection [between the two] is about drawing. To me [they are both] about the line and colour on paper" says Federico while we drink coffee in a Modern Museum in Central London.
Living in a multicultural city can be inspiring, especially with the great number of artists that are based in London. While we are talking, Federico describes his method of working "When I work it is almost intimate. I am very physical with my work. I use all of my body".
He shows me some of his work printed on pieces of paper. Federico mentions that he likes to collect many different kinds of materials to work with like newspapers, and books. Some of his techniques include: drawing, painting, photographs and over-painting that allows the artist to manipulate any image by drawing, painting or doing anything on the top of the image to transform the piece. "It's about changing meanings… it becomes something else".
After successfully obtaining his BA, Gallo went on to take an MA in Communication Arts from the Royal College, graduating in 2008. Since then, Federico has been working as a fine artist and illustrator, collaborating in fashion and editorial projects and taking part in group exhibitions in England and abroad.
Immigration is a constant subject of practice and interest for Federico; for him art is a great tool that can be used to get the audiences involved and could help them to perceive migrants in a new and more positive way.
His passion for migration as a subject started in Italy after becoming aware of the situation for migrants there. Federico Gallo began recording his impressions of the experience of migrants and developed Kids, four seasons, 2010, a project that includes four pieces "Migrants" (Spring), "The Party" (Summer), "The Camp" (Autumn) and "The Wait" (Winter) plus a related piece "Migrants" 2010 as part of the drawing installation.
Federico Gallo has found that his work is one way to speak out about migration and he wishes that it could give some hope without creating a particular fixed image of a migrant, but rather leave the doors open to people's own interpretation.
Federico tells me more about his own experience as a migrant. "Looking back, it was a hard time. London is very big and busy, a lot of people can get lost in it. I left my country yes… I wanted to. I was aware that it was going to be difficult. When you do not speak a word of English you may find yourself [getting a job] washing loads and loads of dishes. I sometimes felt I had less rights – or knowledge of them - than others. I had people laughing at my accent or considered me 'simple' just for not completely understanding them. But with time I also learnt how to laugh at my own limits. A bit of difficulties in life is pretty useful, it serves the purpose to keep you free of arrogance, and makes you focus on what is important".
Perhaps London has always been a challenging place for those who came there. Federico tells me this quote by George Orwell, from "The Road to Wigan Pier': "London is a sort of whirlpool which draws derelict people towards it, and it is so vast that life there is solitary and anonymous. Until you break the law nobody will take any notice of you, and you can go to pieces as you could not possibly do in a place where you had neighbours who knew you."
He adds his own thoughts to this, that only by falling to pieces (and re-arranging them) and losing your pre-conceived vision of reality you may aspire to be a good person and an ethical, happy citizen.
Federico looks to the river, as if he could see himself back then struggling and at the same time enjoying himself, with a city that is not easy but has a lot to offer to all the ones that want to take up the challenge.
Currently, Federico is collaborating with the fine artist Maurizio Anzeri as well as working at his drawing installations; his next show, "Outside the White Cube – Outsiders' celebration of Sport", opens the 25th of July at the Bermondsey Project space.
By Lilian Posada
Photo by Lilian Posada. Illustrations: by Federico Gallo