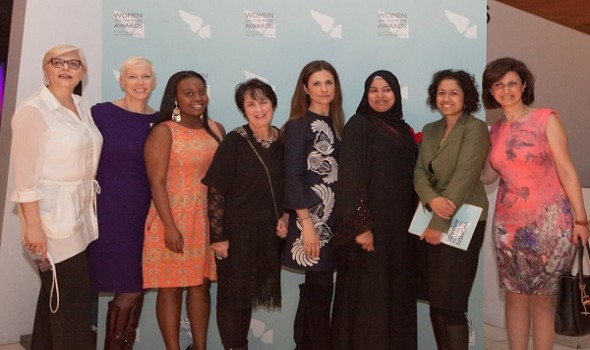 The Women on the Move Awards was held on the 4 March at the Southbank Centre as part of their Women of the World Festival, leading up to International Women's Day on 8 March. It was great to be there. Supporting and celebrating successful migrant women.
Presenters included Samira Ahmed, Livia Firth and Annie Lennox. Opening the ceremony was Maya Yousef, a Syrian kanun player who has performed all over the world and has won an Exceptional Talent Award in the UK. Roshi Nasehi, a singer-composer and sound artist born in Wales to Iranian parents, also performed. She has a strong track record in performance, recording, collaboration, public art and social intervention projects and workshops.
Sonia Khoury received the Woman of the Year award, presented by Annie Lennox. Sonia came to the UK in October 2011 as a medical doctor to do her PhD in Health Sciences. She later claimed asylum due to the spread of violence in Syria. Before coming to the UK, she had helped refugees who had fled Iraq. Sonia lives in Wales now with her daughter, working at Black Association of Women Step Out Women's Aid to support migrant women, in particular those escaping domestic abuse. She is currently undertaking an MPhil on reproductive care provision for refugees and asylum seekers.
The Young Woman of the Year Award went to 20-year old Chrisann Jarrett. Chrisann founded Let Us Learn after being denied a student loan to go to university because she had been born in Jamaica. Her organisation campaigns for the rights of irregular and undocumented young people kept out of higher education by their immigration status. Her work in bringing attention to migrants in similar situations allowed her to win a full scholarship from LSE.
Asma Mohamed Ali received the Special Jury Award. Born on the Brava Coast in Somalia, Asma came to the UK in 1992 after spending much of her childhood in Kenyan refugee camps. She built a thriving centre and education programme while working for the Somali Bravanese Welfare Association in Barnet, supporting 200 students and their families until it was burnt down in 2013 in a racist arson attack. Within a week, and while six months pregnant, Asma forged ties between the local Jewish and Muslim communities to keep the students' programme going, and led community action to raise £1.1 million to rebuild the hall.
The Awards also recognise Pauline Hawkes as Champion of the Year. Pauline worked in foster carer for over a decade before dedicating her life to supporting young people seeking asylum and victims of trafficking for sexual exploitation. She also founded her own foster care agency, the Phoenix Centre, which now provides a home for around thirty unaccompanied young people in Tottenham.
The Media Award for outstanding media coverage of the protection needs of refugee and migrant women went to Giles Duley and Katie Razzall.
Giles Dule yis is a British documentary photographer and photojournalist who travelled to Lebanon with Handicap International teams to document the harrowing experiences of disabled and injured women and girls. The documentary provided powerful insight into some of the most marginalised and vulnerable of the Syrian refugees, the issues they face and the physical and psychological impact of the conflict on them and their families.
Katie Razzall has been Special Correspondent at BBC Newsnight since April 2014, covering a wide-ranging brief including social and legal affairs and disability issues. She was previously a correspondent at Channel 4 News, winning an RTS and a Foreign Press Award. Her Newsnight piece on the situation of talented students denied funding for higher education, produced by Maggie Latham, profiled two bright and ambitious young women who are being denied loans because 'their immigrations status is not settled,' giving a central voice to migrant women.
Roshi Nasehi, a singer-composer and sound artist born in Wales to Iranian parents, ended the ceremony with a traditional song chanting in Iranian. The crowd sang the lines of a wheat flower blooming together, symbolic of the inspiration shared that night.
Photo: Proud of our Women On the Move Award winners and presenters: from left Zrinka Bralo, Annie Lennox, Chrisann Jarrett Winner, Young Woman Award, Pauline Hawks, Winner, Champion Award; Livia Firth, Asma Mohamed Ali, Winner Special Jury Award; Samira Ahmed; Sonia Khoury, Winner, Women on the Move