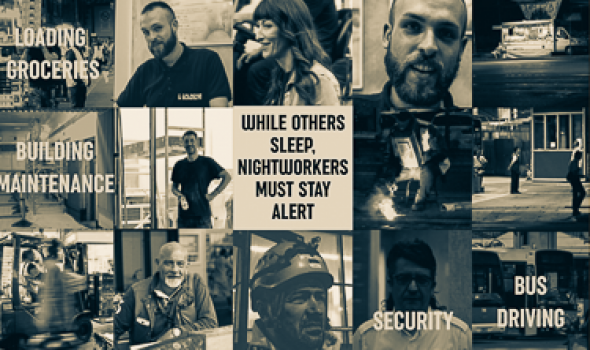 TUESDAY MARCH 1 2022
Today, I am launching the Nightworker Charter, which highlights the need to recognise the contribution of nightworkers in our societies – many of whom are migrants. This charter aims to put nighttime workers on equal footing with their daytime counterparts.
The launch of the Nightworker Charter coincides with the United Nations' Zero Discrimination Day – a global observance of the unwritten law that everyone counts in our societies, regardless of their skin colour, gender, skill level, education, and beliefs. This important day is often symbolised by a butterfly: a sign of change, hope, renewal – and transformation. Similarly, this charters seeks to transform night workplaces by upholding the basic rights of nightworkers to live and work in dignity. The charter also celebrates the strategic role that nightworkers have been playing in keeping societies going around-the-clock.
Recently, I created the NIGHTWORKSHOP project to carry out research into the invisible employees working nightshifts in cities. Since then, I have initiated discussions advocating for their rights, including with trade unions, academics, non-governmental organisations representing migrants, and EU agencies. Over the years, I reached out to people who work in these capacities, for example, as a night ethnographer, migration scholar, outreach worker and as a collaborator with NGOs working with vulnerable groups. I do all of this because I am passionate about improving the rights of those who work at night. The result is the Nightworker Charter. You can read all about the Nightworker Charter, via the link or in the text attached to this blog.
This Nightworker Charter is an example of action-based research and committed ethnography proposing a set of special arrangements to recognise, address and repair specific problems with nightwork. In one sense, the Nightworker Charter has organically grown out of the past ten years of researching nightwork. Yet, the ideas behind this Nightworker Charter have developed through my conversations with individuals and organisations who also care about these workers, including Migrant Voice. The Nightworker Charter remains open to collaboration with individuals and organisations pledging to improve night working conditions. I am currently collecting signatories world-wide to engage and endorse the Charter's democratising work agenda.
In solidarity, you can become a signatory and pledge to improve nightworkers' lives. Sign and invite others to sign this charter. Recommend the charter to unions, labour organisations, employers, local and regional councillors, and health and safety organisations.
You can sign the Nightworker Charter by clicking here
Image credit: Courtesy of Julius-Cezar MacQuarie