Two major Migrant Voice events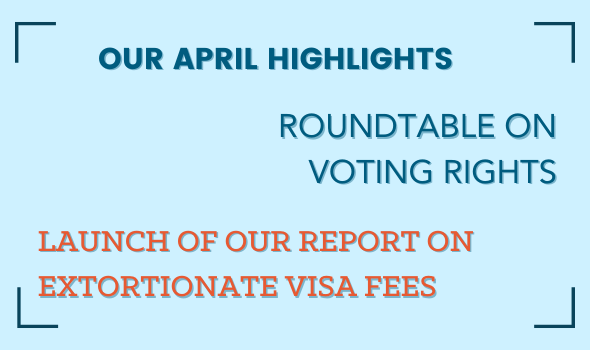 This week sees two major Migrant Voice events on issues affecting thousands of migrants:
* the parliamentary launch of our report that spotlights the health and financial distress inflicted by exorbitant visa costs, and
* our roundtable on voting rights, part of a series of Build Back Better roundtables
Publication of the report on the impact on migrants of visa fees and the visa application process on 27 April is a significant step-up in Migrant Voice's campaign against an extortionate government policy.

The report shows that migrants are charged more than 7 times the administrative cost of a visa and that two-thirds of migrants who took part in our research have been forced into debt to pay the charge - sometimes with calamitous personal and family effects.
It sets out recommendations for a fairer visa and immigration system.

Ahead of local elections in England and Wales on 5 May, the 26 April roundtable will look at the right to vote - which many migrants lack.
Residence-based voting rights, as in Scotland, will be among the solutions discussed .

Speakers will include Lara Parizotto from Our Home Our Vote and the Young Europeans Network and Savan Qadir from Refugees for Justice and the UN's Scotland-based Refugee Integration Through Languages and the Arts.
+ 26 April: 'Build Back Better? Migrants, democratic rights and political participation', 4-6pm on Zoom. Email [email protected] to sign up.
+ 27 April: Launch of report on the cost of visas and the visa application process, 5-7pm, Committee room 12, Houses of Parliament. The event is now fully booked. Email [email protected] for the report or more information.