» Press
MV member and Migrant Ambassador writes for Each Other about her connection to one of the Essex 39 victims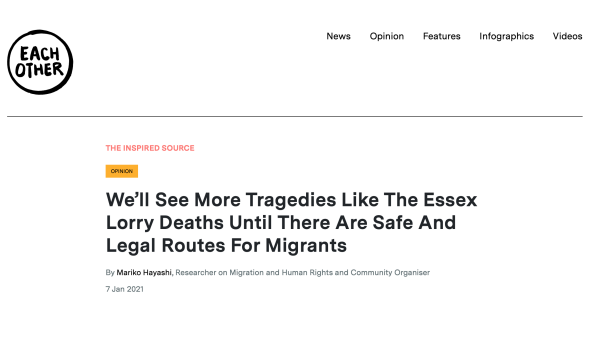 On 7 January, Each Other published an opinion piece by Mariko Hayashi about one of the victims of the Essex 39 tragedy, where 39 migrants lost their lives in a lorry in October 2019.
"During the years before Tra My's death, my path almost crossed with hers several times. As the trial came to an end, I was left thinking about how differently our lives turned out," Mariko writes, going on to describe how they lived just 30 minutes apart between 2016 and 2019, before both later arriving in the UK just a few weeks apart.
"I was lucky enough to cross the UK border safely without fear. The only route available to Tra My was a dangerous and inhumane one… Convicting and imprisoning individual smugglers alone will not solve the problem, and it certainly isn't enough to bring justice to those who have lost their lives… We cannot wait any longer to end the exploitation and senseless deaths caused by our border control."
This article was pitched and published as part of the Meet a Migrant project.