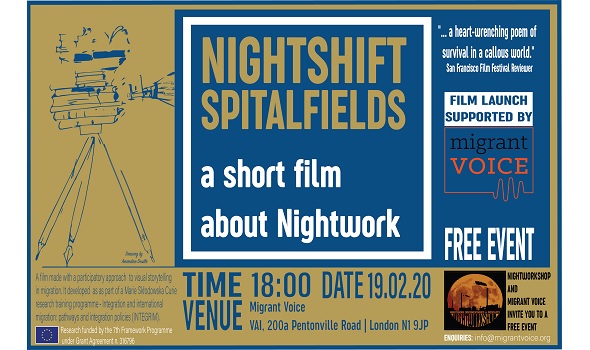 Come to the launch of a brilliant short documentary about the hidden migrant night workers of London.
Where: Migrant Voice, VAI, 200a Pentonville Road, London N1 9JP
When: 6pm, Wednesday 19 February 2020
A reviewer at the San Francisco International Film Festival described the film as "a heart-wrenching poem of survival in a callous world."
Migrant Voice member Julius-Cezar MacQuarie has been researching the lives of London's invisible night workers since 2013 – even becoming one of them for several months. He has made several podcasts and documentaries through his production lab Nightworkshop and is now launching 'Nightshift Spitalfields', the third film in his nightwork trilogy, made with the help of filmmaker Tim Marrinan.
The 10-minute documentary focuses on the life of Ali, a Bulgarian-Turkish porter at the New Spitalfields market in Leyton, where he regularly works six nights a week, often 15-hour shifts, loading and transporting goods.
These shifts are incredibly physically demanding. Many workers have families, but it's almost impossible to have a proper family life when the graveyard shift is all they have. They can't take proper part in society, they can't organise to improve their conditions – they are just exhausted and worn down.
These night workers are an invisible group of people who keep the city running with their labour. Those of us who sleep at night have no idea they even exist, but without them, the supermarket shelves would be empty in the morning.
Crucially, after the end of the Brexit transition period, these workers won't be eligible to come here from the EU under freedom of movement. And if the Government introduces the proposed work-based immigration system – requiring workers to either meet a salary threshold of at least £25,600 or a points threshold based on qualifications, English language ability and age, among other things – they won't be able to come here at all.
That's bad for them and likely even worse for London, which relies heavily on their labour to function as an urban metropolis.
Come along to Migrant Voice on Wednesday 19 February, 6pm, to watch the film and hear from Julius-Cezar MacQuarie. The event is free and open to all.
Email [email protected] to book a place or for more information.