» Whats On
Media Lab in Birmingham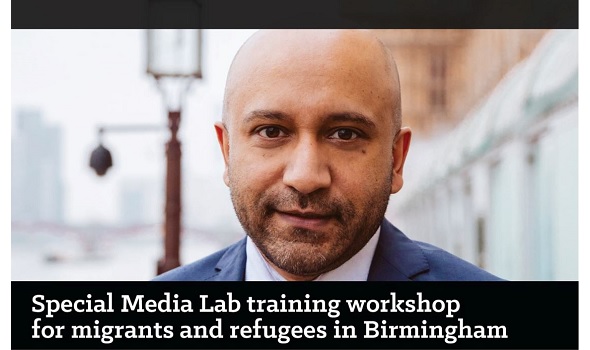 Migrant Voice is organising a special Media Lab training workshop in Birmingham on Friday 28 February 2020.
Former Al Jazeera and BBC News broadcast journalist Hasan Patel will lead an MV Media Lab training session to help amplify migrant voices through digital communication.
Asylum seekers, refugees and migrants living in Birmingham, please join us to learn skills that will make your voices heard.
10:00am - 11:00am: Welcome, registration & refreshments
11:00am - 1:00pm: Part I - How to craft a good story - Tools for a basic journalist
1:00pm - 2:00pm: LUNCH BREAK (Lunch will be provided)
2:00pm - 4:00pm: Part II - Constructing a story for TV, print and/or digital media
4:00pm - 5:00pm: Wind down, finishing off projects, evaluations, networking
Equipment will be provided, you do not need to bring anything with you but you are more than welcome to bring along your phones and also use these if you'd like.
Venue: Saathi House, 49 Bevington Road, Aston, Birmingham B6 6HR.
The sessions are free. Free food & refreshments will also be provided. For early registration, please contact: [email protected] or 07821 147 341.