» Whats On
Training: writing letters on visa fees and the ten-year route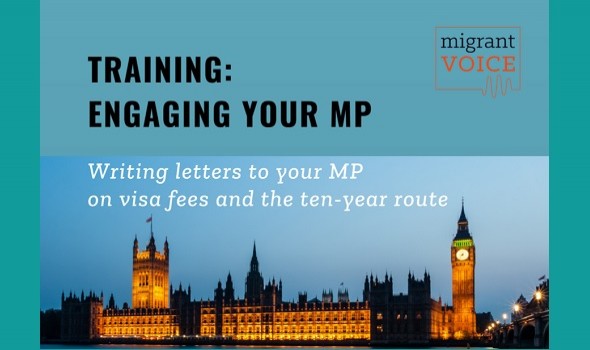 We are kickstarting a national action week of writing letters to our MPs about the impact of extortionate visa fees.
Join us for a training session Monday 21 February 11:00-12:30 OR Tuesday 22 February 17:30-19:00 on Zoom to get tips for how best to raise awareness with your MP about extortionate visa fees and the impact of the ten-year route.

You will learn more about the roles of MPs, what they are responsible for, what they can do to help and how you can get help from them.

We will look at how to find out who your MP is, how to contact them, and how best to structure a letter to them so that you get the answers or the help that you need.

The training will also cover:
· other representatives you may be able to contact and asks for support from
· An overview of our visa fees campaign
· how else you can make your voice heard

The training will focus on writing about the impact of visa fees and the ten-year route to settlement. However, the skills learned can also be applied to other issues that people may want to contact their MP to speak about.

Following the training, we can support with your draft emails or letters to MPs on this issue.

To reserve a place or for more information, please contact [email protected]
___
Migrant Voice's campaign against extortionate visa fees focuses on the horrific impact that visa costs and the associated stress of visa renewals puts on migrants across the UK.

We are campaigning to reduce the cost of visas down to administrative costs only, and free for children – this will mean the Home Office no longer makes a profit from migrants. We will also be asking for the 10 year route to be scrapped and for everyone to be placed on the 5 year route to settlement.

We will soon be launching our report into the impact the fees have had on migrants in the UK and spell out the way we can make the UK a more hospitable place for migrants to work and live.

You are welcome to get involved in the campaign.